Products TWITTER ANALYTICS for Excel
SOLUTION
Twitter is one of the most popular marketing and news channels for businesses, and its popularity continues to grow. Extended Results has teamed up with Microsoft to build the utlimate add-on for Microsoft Excel and make it available to you as a FREE download! Since most everyone already has a copy of Excel 2010 or 2013, we thought Excel is the best place to do your Twitter insights. Well, now you can do it with a tool you use everyday and it is FREE.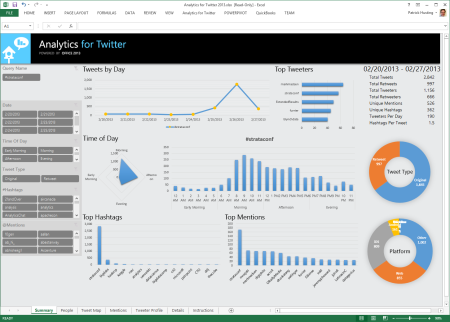 With the release of Excel 2013, we decided to revisit our previous solution and update it with a new interface and functionality only found by using Excel 2013. And what did we discover?
Several features for in-application development allow for better control with integration with Web services like Twitter and pulling all kinds of data content.
Better UI control so we can apply new styling that drives better insight.
Application dialog (displayed above) showing the data/content being pulled.
Better integration of PowerPivot so you don't have to go behind the screens to refresh.
And much more…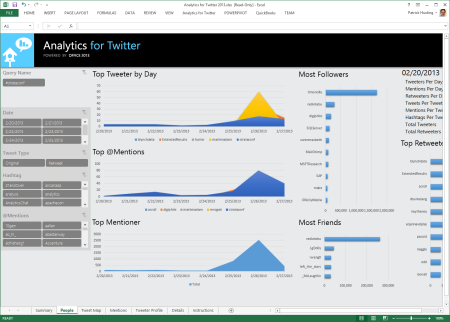 Using Twitter Analytics for Excel, you can now discover trends and insights through the Twitter social media channel. Enter your search terms and Excel 2010 and 2013 does all of the work for you. If you are looking for more flexibility within this tool, please contact us. Download it and give it a shot. Enjoy.
Microsoft and the Office logo are trademarks or registered trademarks of Microsoft Corporation in the United States and/or other countries.